A lot goes into choosing a place to live depending on your life situation. If you're young and single, you may appreciate the job opportunities and nightlight in big cities. But if you have a family to raise, you may prefer a quieter and less populated community. However, one thing we all have in common is health — and a considerable part of your health is the air you breathe.
In the US, there is a significant variation in air quality between states. Some have clean air almost everywhere (aside from one or two larger cities), while others suffer from widespread air pollution that can be harmful to sensitive groups.
Whether you're looking at places to move or just want to judge the air quality in your state, here's a list of the top five best and worst states for air quality.
The Best States For Air Quality
1. Maine
Maine consistently ranks as one of the best states in the union for air quality. Usually, Bangor, Maine is named one of the cleanest cities overall in the United States by the ALA. This year, they didn't make the list — but only due to incomplete data. That said, Bangor was still listed as the second-cleanest US city in terms of ozone pollution.
Outside of that, most other areas around Maine fall into the single digits or low double digits for AQI, indicating clean air for miles around.
The only issue Maine has is that some residents live in areas where power plants cause air pollution. However, this is relatively minor — even their most polluted cities don't make it that high in the Air Quality Index.
2. Hawaii
Hawaii ranks number two on our list of best cities for clean air, which shouldn't come at much of a surprise. After all, Hawaii is a small state located in the middle of the ocean, and it isn't exactly an industrial center.
Hawaii's capital, Honolulu, was named one of America's cleanest cities by the ALA for 2021, which is fantastic for Hawaii since it's the biggest city on the islands. The Kahului-Wailuku-Lahaina area also was named one of the cleanest cities for year-round particle pollution.
Hawaii does have to deal with volcanoes, though. The volcanoes can emit pollutants that mix with other things in the air to create volcanic smog, or vog. However, that's perhaps the only substantial threat to air quality that Hawaii faces.
3. Alaska
The other state separated from the mainland USA — Alaska — also offers plenty of clean air in many areas. In fact, the ALA named Fairbanks one of the cleanest cities in terms of ozone pollution. Anchorage made the list of the cleanest cities by particle pollution.
In the past, those cities and others have struggled with air pollution (and some were even named among the dirtiest US cities), but they've improved dramatically in recent years.
Still, cities in Alaska sometimes deal with pollution from wood-burning cooking appliances and some wildfire smoke. For example, Fairbanks might have low ozone pollution, but they were number one for short-term particle pollution in the ALA State of the Air 2021 report.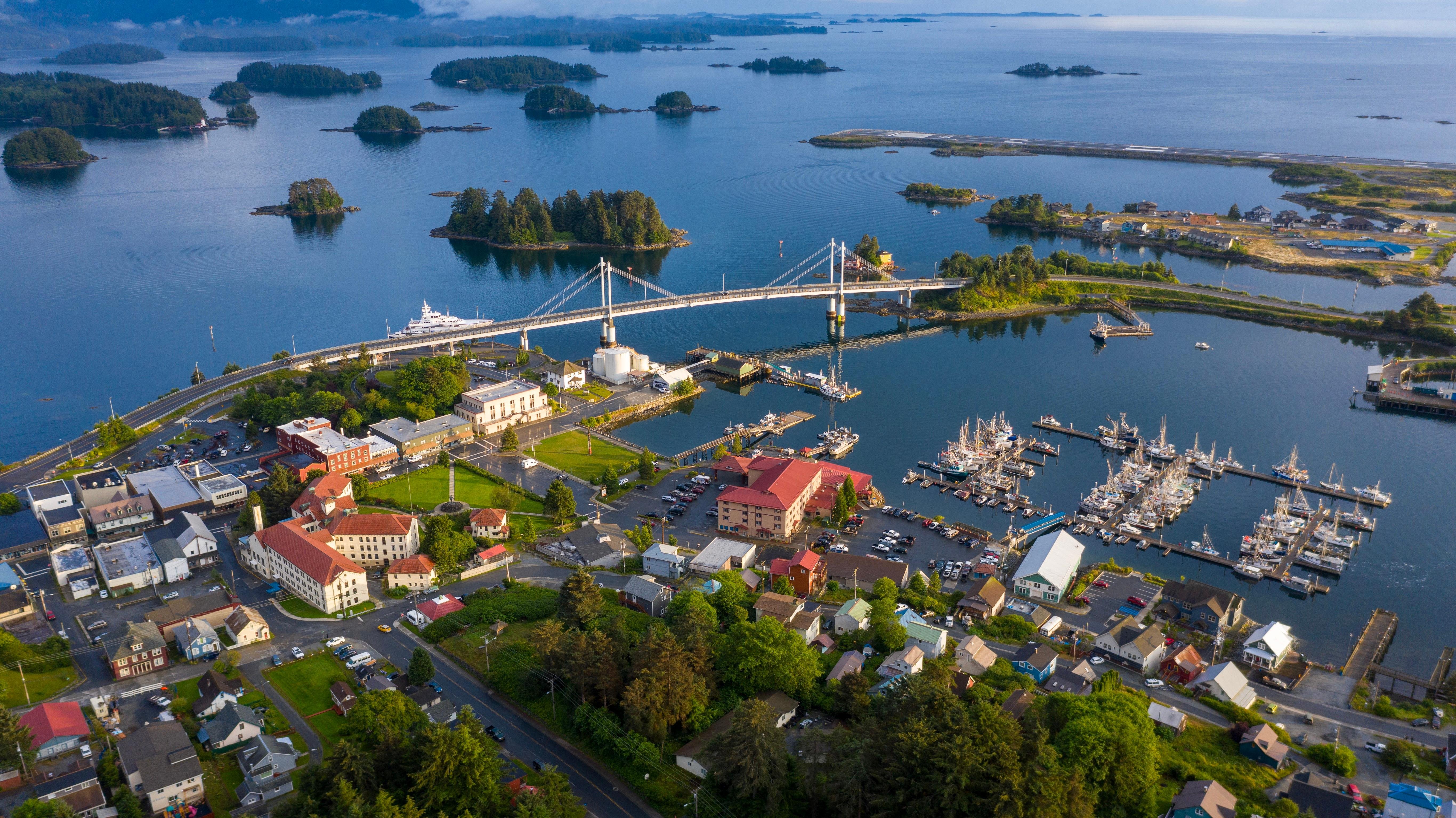 4. Washington
Over to the Pacific Northwest, Washington has some of the best air in many areas, with just a couple of areas with poor air quality. Bellingham, WA was named the 7th cleanest city in the US for year-long particle pollution, and much of the state (barring certain areas) has low AQI numbers.
That said, the Seattle area is where the air quality worsens. This is likely due to traffic and the general existence of a city. The ALA's 2021 list of dirtiest cities named a couple of other cities as well.
5. Oregon
Just south of Washington lies another state with good air quality — Oregon. Oregon has pretty good air quality in most areas — some cities get as low as 0 on the AQI. Even Portland doesn't do all too bad that often.
That said, Oregon had a few cities make it onto the ALA's list of dirtiest cities, but those cities aren't too large. As long as you stay away from heavily populated areas, you may not face bad air quality.
The Worst States For Air Quality
1. California
It won't surprise some that California is at the top of the "worst state for air quality" list. Los Angeles is unfortunately infamous for the smog, thanks to a combination of heat, sunlight, a massive population, and heavy traffic.
However, the ALA, in its 2021 State of the Air report, ranked several other California cities as some of the most polluted in the nation across all three categories — ozone, year-round particle pollution, and short-term particle pollution. Notable cities include Bakersfield, Fresno, Sacramento, and San Diego.
On top of these, California unfortunately suffers from wildfires. Wildfires release both ozone precursors (chemicals that take part in chemical reactions to produce ozone) and particulate matter into the air.
To be fair, California is a massive state, both geographically and by population. It contains several big cities, as mentioned above. When you go further inland, there are fewer vehicular and industrial emissions.
2. Texas
Coming in at the second-worst state for air quality is the Lone Star state. Not surprisingly, Houston and the Dallas-Fort Worth area ranked among the dirtiest cities in the US over the past few years.
Much of Texas' pollution in certain areas can be attributed to the energy industry. Of course, traffic in massive metro areas (often some of the same places where the energy industry is big) lets off plenty of pollutants, too. The Texas heat and sun make things worse, too. This can turn the already significant amount of air pollution into plenty of ozone.
Once again, though, Texas is a large state with several big cities. It's hard to compare it accurately to a place like Hawaii. That's reflected in the fact that some Texas cities and towns made the ALA's list of cleanest cities. Living in these cities or more rural areas may afford you better air quality.
3. Arizona
Continuing the trend of warm and dry states, Arizona comes in at number three. The more rural areas are pretty good, but Phoenix has some significant air quality problems. The air quality often climbs into the 70s there.
In fact, the Phoenix area made ALA's most polluted cities (in terms of air) across all three categories in 2021. Once again, this is likely attributable to the heat and sunlight mixing with emissions from vehicles and other sources.
A few other cities in Arizona deal with poor air quality as well, but Phoenix seems to be the main concern due to the traffic and heat.
4. Utah
Utah comes in at number four on the "worst" list. The Salt Lake City area made it on the ALA list of dirtiest cities both by ozone and short-term particle pollution for 2021. A good chunk of that is vehicle emissions. Logan, UT was also on the short-term particle pollution list.
Now, Utah wouldn't be as bad as it is if it weren't for the mountainous terrain. Such terrain allows pollutants to stay and build up near the surface, then said pollution can disperse across the area. Utah has been taking steps, however, such as increasing solar energy use and implementing other rules that target emissions from several sources.
5. West Virginia
West Virginia isn't exactly the most urban state, so it may seem odd that it's one of the worst states in terms of air pollution.
However, keep in mind that West Virginia is also home to coal plants, which have polluted both the air and water. Vehicle emissions certainly aren't helping either. In fact, West Virginia may be responsible for some pollution in other states.
Now, West Virginia has made some progress in terms of fine particle pollution in recent years, but the ozone problem is bad — the state has smog issues in some cities.
Regardless of where you live, investing in clean air can pay off in a happier, healthier, and longer life. That's why you should consider grabbing an air purifier or two for your home. It'll keep your air clean indoors — where the EPA estimates you spend 90% of your time — helping you out if you live in a bad state.
Medify's purifiers trap 99.5% of pollutants circulating in your air, and we have a variety of different kinds for every size of room in your home (up to 5,000 square feet). Check out our selection of air purifiers today.